Collecting minor mapping problems for R.D.
Rhombus Square:
Only the Rookie Harbor teleporter is named, even though you can unlock several others now.
Rookie Harbor:
A lot of the buildings still don't have doors. Also, the Seeker Hub's staircase isn't marked.
Autumn's Rise:
The First Scholars HQ needs both a door and a staircase.
Bergen Trail:
The Horncave has an arrow marking its exit, but the Frozen Cave doesn't.
Bergen Village:
The Cave of Aspiration has arrows linking it to the main map, but the Cave of Progression doesn't. Also, the Temple Mine label overlaps with Miner's Elevator G.
Temple Mine:
The exit to Bergen Village isn't shown.
Maroon Valley:
The path between Barren Land and Overpass is missing.
Ba'kii Kum:
The guardhouse still needs to be added to the map. Also, the quest hub stairs are only shown on the basement map.
Faj'ro Temple: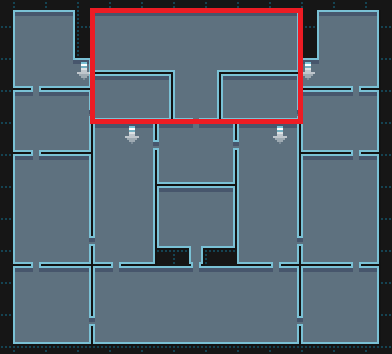 I've mentioned this before, but anywhere in the red square displays the boss room's name, so you can't read the names of the two smaller rooms after you reach the boss room. Also, just a suggestion, but the double-height rooms (Balance Room 1 and Gateway) should maybe have arrows to show that they connect between floors.
Gaia's Garden:
The access to Zir'vitar Temple is not shown.
Basin Keep:
The stairway in the Halloween quest area is missing.
Zir'vitar Temple:
The access to Gaia's Garden is not shown. Also, two missing teleporters: Stacking Blocks and Shocking Surprise don't show the teleporters leading down from them.